Poem, SAN FRANCISCO
Jun 22, 2023
Wealth
by giovanni singleton
A poet and his friend stand in front of
slot machines filled with rare books.

When I arrive they simultaneously turn
and look at me. They touch their index

fingers to their closed lips and whisper
Shhhh

Their empty white pants pockets turned
inside out are threadbare in a flash of

Nighttime.
note
Japanese translation by Rogan's which is an anonymous translation team.
詩人とその友人が立っている
珍しい本のつまったスロットマシンの前。

そこへ着くと彼らは同時に振り返って
私を見る。人差し指を

閉ざした唇にそえてしずかに
シーッ

二人の白いズボンポケットは空っぽ
外にめくれてくたびれてる

夜も更け最後のひと勝負。
注
翻訳を担当したRogan'sは、匿名の翻訳グループ。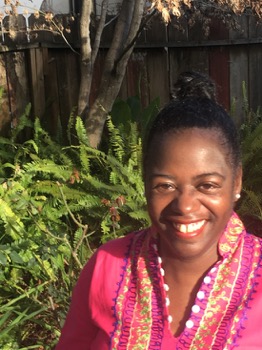 giovanni singleton
giovanni singleton is the author of Ascension, informed by the life and work of Alice Coltrane, which won the California Book Award Gold Medal and AMERICAN LETTERS: works on paper, a collection of visual art and poetry. Her writing has also been exhibited in the Smithsonian Institute's American Jazz Museum, Oakland's Digital Literature Garden, San Francisco's first Visual Poetry and Performance Festival, on the building of Yerba Buena Center for the Arts, and the Poetry Center at the University of Arizona. Founding editor of nocturnes (re)view of the literary arts, singleton is the recipient of the African American Literature and Culture Society's Stephen E. Henderson Award for Outstanding Achievement in Poetry. She was the 2017-18 Holloway Lecturer in Poetry at the University of California, Berkeley where for ten years she coordinated the monthly Lunch Poems reading series. Her dreamography is forthcoming from Noemi Press.
ジョバンニ・シングルトンは、アリス・コルトレーンの人生と作品からインスピレーションを得た詩集Ascension(2011年出版、カリフォルニア・ブック・アワードの金賞を受賞)と、詩とビジュアルアートのコレクションであるAMERICAN LETTERS: works on paper(2018年)の著者である。また、nocturnes (re)view of the literary arts誌を創刊し、編集者も務めたシングルトンは、2018年にアフリカ系アメリカ人文学・文化協会からスティーブン・E・ヘンダーソン賞(詩部門)を贈られた。彼女の作品は、スミソニアン研究所のアメリカン・ジャズ・ミュージアム、オークランドのデジタル・リテラチャー・ガーデン、サンフランシスコ初のビジュアル・ポエトリー&パフォーマンス・フェスティバル、ヤーバ・ブエナ芸術センターの建物、アリゾナ大学のポエトリー・センターなどで展示されてきた。2017年からは1年間、カリフォルニア大学バークレー校のホロウェイ・ポエトリー・シリーズの講師を務め、詩の朗読会であるランチ・ポエムズ・シリーズを10年間にわたって毎月コーディネートしてきた。現在はNoemi Pressから出版予定のドリームグラフィー(dreamography)を準備中である。