Prague
by Keijiro Suga
tr. Keijiro Suga
The castle stands up there.
Franz can't arrive.
He with his beheaded head gives up.
But he, although dead, doesn't give up just yet.

The castle is soaring enormous.
It devours people's lives.
It throws away history down the river,
Living as castle for the castle's sake.

Knock on the door of the synagogue
And run away before anybody answers.
On bread crumbs he scatters
Come a thousand doves.

Every time you come to a street corner
There is Franz, gazing downward.
At a small commercial square
His head is changed every hour.

At all the steeples in town
At once lightning strikes.
Making the stone-made city
Glare like a chandelier.

Hebrew letters are written from right to left
So, the dial of the clock, too, should go backward
Tempting all celestial bodies to go counterclockwise
Reversing time.

Franz kept writing letters to his dad
As if he was asking something of the dead father.
But then, of the two, Franz died first.
His father was buried in the same grave seven years later.

You step into a building.
Oh my, it's a field of hemp.
Pick the leaves and dry them well.
Mix them in cookies for soaring in the sky.

To drive the busy streets of the city
Best suited is this national automobile half a century old.
The driver is Buddy Mole with his red nose.
The children come following on their skateboards.

When I come to the Old Jewish Cemetery
Dead there was Mr. Freud.
Dead there was Mrs. Freund.
Neuman, Wasserman, all dead.

Franz climbed the TV Tower
To observe the landform.
The sky grows heavy and oppressive.
From somewhere comes Dvorak's "New World".

It's your Buddy Mole who diligently runs the subway.
Buddy Mole is kind enough to let humans use his territory.
It's Buddy Mole who comprehends the world.
Buddy Mole's wisdom is transmitted through vibration.

The bridge is a checkpoint.
Passers are required to pay tax.
Now we are crossing mundane space
Wasting transparent currency.

The cemetery also is a checkpoint
Passers are required to have passwords.
Mostly done for worldly duties
We keep waiting for something to come.

Streets are strewn with garnet.
Take a leisurely walk just before sunset.
In the crepuscule of the old town
Only Franz survives.

Good night, Franz, good morning.
Good morning, Franz, good night.
Prague is eternally guarded
By our gentle Buddy Mole and you.

I hear "New World" from afar.
城はすぐそこに見えている
フランツはたどり着けない
首だけの彼はあきらめた
死んだ彼はまだあきらめない

城は巨大にそびえて
人々の命を食い散らかして
歴史をどんどん川に流して
ただ城のための城として生きて

シナゴーグの扉をたたいては
誰も来ないうちに逃げ出す
彼がばらまくパン屑に
千羽の鳩が群がる

街角にさしかかるたびに
フランツがじっとうつむいている
小さな商業の広場では
彼の頭が一時間ごとに取り替えられる

群れなす尖塔のすべてに
一斉に雷が落ちた
石造りの都会がまるで
シャンデリアのように輝いて

ヘブライ文字は右から書くので
時計の文字盤も逆まわり
つられて天体が逆まわりするとき
時間も逆行する

フランツは父への手紙を書きつづけた
死んだ父にむかって訴えるように
でもやがて先に死んだのはフランツ
彼の墓に七年後に父も埋葬された

建物に一歩ふみこむと
おやおや、そこは麻の原野
つみとられた葉を乾かして
クッキーに混ぜて焼きましょう

この忙しい街路を走るには
半世紀前の国産自動車がいいよ
運転手は赤い鼻のもぐらくん
子供たちがスケートボードで後を追う

古いユダヤ人墓地にたどりつくと
Freudさんが死んでいた
Freundさんも死んでいた
Neuman もWasserman も死んでいた

フランツはテレビ塔にのぼり
地形をよく観察する
空がのしかかるように重くなって
「新世界」が聴こえる

勤勉に地下鉄を走らせるのはもぐらくん
領土を人間に貸与するのはもぐらくん
世界を了解するのはもぐらくん
もぐらくんの知恵が振動として伝わる

橋はそもそも関所なので
渡る者は税金を払いなさいよ
いま世間を渡るわれわれはただ
透明な通貨を浪費して

墓もそもそも関所なので
渡る者には合言葉が必要
この世の務めをほぼ終えて
われわれは何かを待機する

柘榴石がばらまかれた街路を
のんびり歩く夕方だ
旧市街の歴史の黄昏を
フランツだけが生き延びる

おやすみ、フランツ、おはよう
おはよう、フランツ、おやすみ
プラハを永遠に守るのは
気のいいもぐらくんと、きみ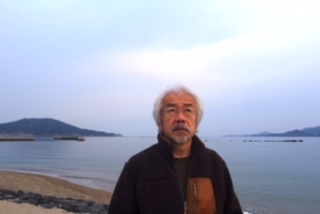 Keijiro Suga
Poet and professor of critical theory at Meiji University. So far he has published eight books of poetry in Japanese, from Agend'Ars to Paradise Temple, and one chapbook in English called Transit Blues. Among his books of prose are Omniphone: Poetics of World-Echoes and Transversal Journeys. As a translator, he has translated works by Antonin Artaud, Édouard Glissant, J.M.G. Le Clézio, and Patti Smith, among others.