The Grains of Sand of that Summer
by Kyongmi Park
tr. Yumiko Koizumi
The Sea and here and
How far did I walk
Barefoot
On the beach in summer
The grains of sand
don't drop off
From the soles of the feet painful
It still feels good though
Comes to see the shells
Which was out of sight
Comes to hear
The sound of waves
More clearly
It's time to feel pain as comfortable
Receiving
Around at the cheek
Pain coming from the feet
My feet are sinking into the sands
A grain of sand
A shell
Evoke
The roll of waves of memories
Summer time was
Dazzling
As it came and went
All was painful
The ward was a double room. It was strangely bright on a cloudy day. We were able to see only the crowd of sleepy buildings from the window, but the glass was a thing that made everything clear. Felt like there was a person who sees me and my mother. My mother resisted the devise attached to her throat. The deep wrinkle between her brows and the helpless expression remained there. The eyes narrowly opened. The lips partly opened. Probably because she seemed to recall the last night operation by the hospital's staffs, the wrinkles between her brows deepened once more. The both eyes opened. As was usual, she complained about pain and remained scared at the last night's fear. Inarticulate, grumbling breaths; the triangular eyes stopped in a moment, because she caught a movement of a figure behind the white curtain. Was the double room filled? The person in a wheel chair seemed the same age as my mother. Whenever the white curtain fluttered, my eyes caught the person's eyes. Nay, it was an ambiguous gaze. The person might have received a strong painkiller. My mother's grumble didn't stop. For my careless response, she raised the voice rapidly. Although I was before my mother, I didn't face anyone.
Grinding the teeth is
A habit from childhood, isn't it?
The grains of sand of that summer
Come back into my mouth now
Drop a portion of the time that is reluctant to return
At the bottom of my heart.
The person's big eyes opened more than before. When I opened the curtain, the person was facing us. They were the eyes that had just recalled something. The legs seemed to hang down before the wheel chair; nay, there was only cloth there; I'm not sure. The big eye was a big mouth as well; opened; called; being scared; began to blame us.
I closed the curtain.
I was not a good mother
I was not a good child
Let's stop pretending to be a good person now
Let's return to the grains of sand of that summer soon.
夏の砂浜を
裸足のまんまで
どれほど歩いただろう
足の裏から
砂つぶが 
離れていかなくなり 痛い
それはまだ心地よいものだけれど
視界になかった
貝殻を見通せるようになり
もっとはっきりと
波の音が
聞こえるようになり
痛みが心地よさとして覚えられた時間
足からのぼってきた痛みを
頰のあたりで 受け止めて
足は砂に沈んでいく
思い出の波のうねりを
砂つぶが
貝殻が
呼び起こしてくれる
夏の時間は
めぐるたびに
まぶしかった
すべてが痛かった
病室はふたり部屋だ。曇り空の日は、みょうに明るくなるところ。窓からは眠ったようなビルの群れしか見えないけれど、ガラスはなにもかも露わにさせる。わたしと母を見ているひとがいるような気がする。母は、喉元に装着された器具に抗っている。眉間の深い皺とやるせない表情は相変わらずだ。薄目が空く。唇が半開きになる。昨夜の病院側の処置を思い出したのか、眉間の皺はまた深く刻まれる。両目を開けた。案の定、苦しさを訴え、昨晩の恐怖にまだおののいている。ことばにならない、うめくような吐息、三角の目が一瞬止まる。白いカーテンの向こうで、人の動きがしたからだ。ふたり部屋の相方が入ったのか。車椅子のそのひとは、母と同年齢と見た。白いカーテンが揺らめくたびに、そのひととわたしの目が合った。いや、焦点が合わない、まなざしだ。強い鎮静剤を打たれているのかもしれない。母のうめきは止まらない。てきとうな応答のわたしに対して、母はどんどん語気を強める。
わたしは母の前にいるが、だれとも応対していない。
歯軋りするのは
幼いころからの癖だろうね
あの夏の砂つぶが
いまでも口の中によみがえって
胸の奥に戻ろうとしない時間を
ひとくさり落とす
そのひとの大きな目はさらに見開いていた。わたしがカーテンを引き開いたら、こちらを向いているのだ。何かを思い出した、という目だ。車椅子の前に、足がぶら下がっているようだ、いや布だけになったような、何なんだろう。大きな目は、大きな口でもあった、開いた、叫び出した、おびえていた、わたしたちをなじりだした。
わたしはカーテンを引き閉じた。
よい母ではなかった
よい子ではなかった
もう、よい人ぶるのはやめよう
はやく、あの夏の砂つぶに還ろう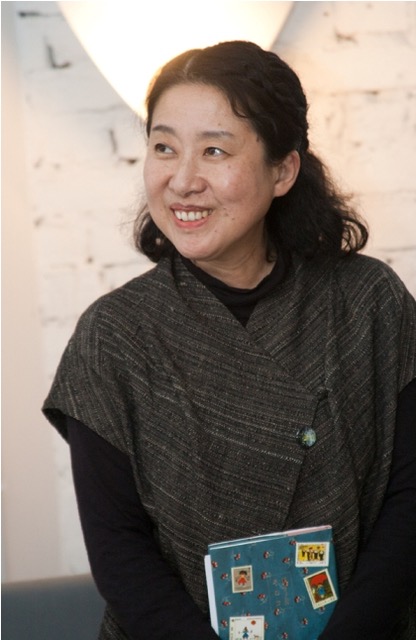 Kyongmi Park
A poet. Born in Tokyo in 1956. The author of collected poems, Go Alone (Kuriurisha), Stories of Where, Who, and How(Shoshi-yamada), and Soup (ART + EAT BOOKS); collected essays, A Master of the Garden: Words to Remember(Quintessence Publishing) and Birds Always Fly (Goryu Books); and picture books, It's Time to Start and Food is Good(Fukuinkan Shoten). A collaboration of poetry and picture, Everyday (Illustration by Kenji Inoue; Switchpoint).
詩人。一九五六年、東京生まれ。著書に、詩集『ひとりで行け』(栗売社)、『何処何様如何草紙』(書肆山田)、『すうぷ』( ART+EAT BOOKS )、エッセイ集『庭のぬし
Words to Remember 思い出す英語のことば』(クインテッセンス出版)、『いつも鳥が飛んでいる』(五柳書院)、絵本『はじまるよ』『ごはんはおいしい』(福音館書店)。詩と
絵のコラボレーションとして『にちじょう』(井上健司・絵、switchpoint )がある。