The Clear Sky
by Ryoichi Wago
tr. Tomoyuki Endo
The bar goes up.
Now is the time to get across the railway crossing.
For there is a feel of the afternoon squall.
SADNESS, TENDERNESS, RESENTMENT,
ANGER, COMPASSION, SUSPICION,
BETRAYAL, AFFECTION, LOVE AND HATE,
All these emotions suddenly float up in the mid-summer afternoon,
taking their form as a sculpture
: a thunderhead.
To see the clear sky dominated by such a violent swell of the mind,
everybody gets stunned.
As if I was called to the teachers' room, hanging my head in the middle of the alley,
the roaring thunder.
The hard rain shoots nails of water.
Let all get soaked, let us fear the pebbles hitting our skin,
numberless commands.
In the meantime, we simply laugh,
and let our laughter be heard as loud as it can be,
then, we become bitterer, paler and paler.
The bar goes up.
At such time, don't you go over the crossing?
Don't you have no way but to stand still before the disappearing train?
Under this hard rain with no drops of water,
you are looking for your own shadow.
In this helpless noisy silence,
a lot of people
from nowhere
who
don't
forgive
you
who
get across,
or don't
get across,
you
who
forgive
yourselves.
棒があがった
あなたは
踏み切りを渡ろう 
なぜなら
昼下がりの驟雨の予感があるからだ
悲 し み 優 し さ 憤 り 
怒 り 哀 れ み 猜 疑
裏 切 り 慈 し み 愛 憎
そうしたものの全てが
真夏の盛りの午後に
入道雲の彫刻となって 
忽然と浮かびあがっている
あのようにも過激な精神のうねりが
青空を支配している姿に もはや
誰しもが 呆然とするしかない
呼び出されたようになって
路地の真ん中でうつむくと
雷鳴 にわか雨は容赦なく
水の釘を打ち込む
ずぶ濡れになるがいい
肌を叩く石ころを
恐れるがいい
無数の命令を
そうして間を外して 
聞こえるように
あっけなく大笑いして
またもや 鋭く
真っ青になっていく
棒 あがった
この時だ あなたは
踏み切りを渡らないのか
消滅している列車を前に
立ち尽くすしかないのか
雨の無い
豪雨のただなかに
あなたはあなたの影を 
探している
やるせない 
騒々しい
静けさの中で 
たくさんの人々が 
どこからともなく 
渡る
渡らない 
あなたを
許さない 
あなたたち 
あなたを
許している 
あなたたち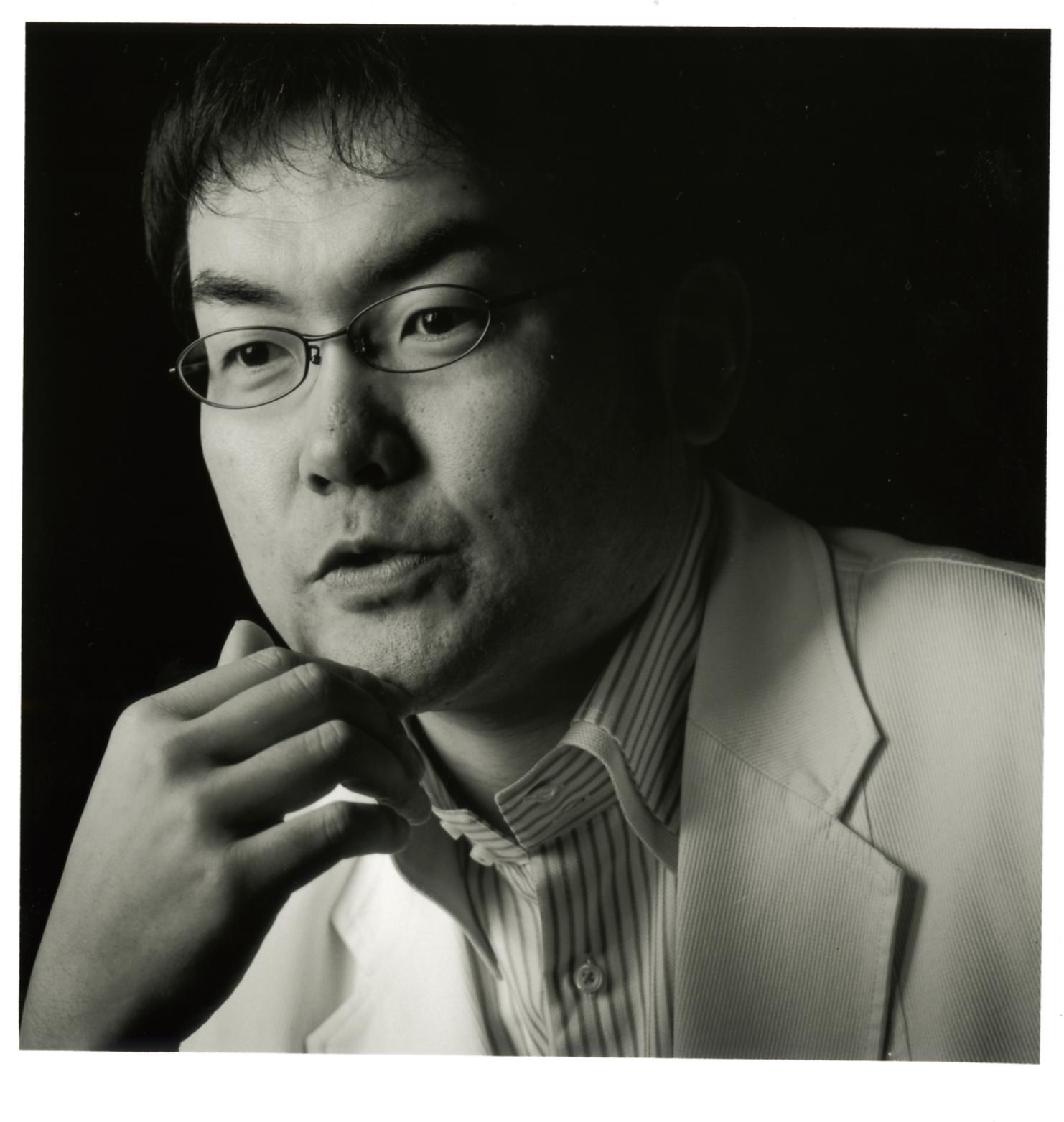 Ryoichi Wago
Born in 1968 in Fukushima, Japan. Poet. Received The Nakahara Chuya Prize, The Doi Bansui Prize and others. His book of poems Pebbles of Poetry was translated into French and was published as Jets de Poèmes, and became the first winner of Prix de Poésie Étrangère 2017 de la Revue Nunc (The Nunc Review Prize for Foreign Poetry). The English version of his poems is going to be published the next spring. He was invited as a performer / artist to Aichi Triennale, and exhibited his work as "Pebbles of Poetry 2022," which attracted public attention. Wago Ryoichi | Aichi Triennale 2022
1968年福島県生まれ。詩人。中原中也賞、晩翠賞、萩原朔太郎賞など受賞。詩集「詩の礫」がフランスにて翻訳・出版され、第一回ニュンク・レビュー・ポエトリー賞を受賞。来春に向けて英訳詩集の出版の準備中。今夏開催の国際芸術祭「あいち2022」にて日本のアーティストに選定され、「詩の礫2022」を出展して話題を集めた。