Original
by Zon Samine
tr. Zon Samine
Rain starts to fall, the breaths
are filling the train in patches.
The empty seats harbor the presence,
after the dissolution of the figures,
like puddles.
In this slumber, the morning in disguise
is sprouting from the handle,
the fissures of its grasped-and-aged synthetic skin widen,
and the fingers curled in sanguine circulation,
grown complete with the nails
appear to pop out,
each pointing to its own end,
shifting away from me.

In the distance,
capitulation—dropped heartbeats
slip through in the direction of tomorrow, spreading rings.
The light does not form an image even with a straight gaze.
A stuck calmness, cold
buckle of the bag. I unhook it
and dive into the water—the smooth wiring of the equipment
feels like you.
I pull into this moment,
the last night's paper covered in algae,
bearing density, responding and entangling.
Quivering in the sound of an iron pipe,
the halftone dots of soil and liquid, and the rubbles,
mixing in each other, are shaking their colors.

As we approach the destination that cannot be known,
the gravity laid in rails become thinner, and
a town factory molten in the window
regains its sooty outline. Unlike the photo,
it for now maintains its original shape,
with faintly flowing rusts.
Nearby the frosted glasses hovering over the back entrance,
the futon being dried, a person's shadow
are suddenly swallowed.
The dark room must be so soft,
for the name yet to be woken.

By the shore across the crystal in my hands,
the droplets of steel are glaring and scratching the night sky.
The silence, seamless in the past and the future
walks and grinds the ear bones.
The instances of our voices
jump in as the doors slide—with their fragile
striking ranges, umbrellas burst open,
chasing the singular spring.

降り出した雨 車内を
まだら模様に息が満たしている
空席は 水溜りのように
姿かたちが解けた後の
気配を湛える
まどろみの中で持ち手から
装った朝が発芽する
握りふるした合皮のひびがひらき
血行に丸まり
爪の生え揃った指が
飛び出してみえる
思いおもいの果てをさして
私を 離れ続けている
彼方では
断頭 落とした鼓動は
輪状に 明日へとすりぬける
直視しようにも 光が像をむすばない
こびりついた 平然 冷えた
鞄の留め具を外し
潜水すると 機材のすべらかな配線が
あなたのようだった
密度を宿して 応答し 絡まる
藻で覆われた夕刊を
今に引き揚げる
鉄管の音をふるわせながら
土と液 瓦礫の網点が
相互にまみれ 色を揺らしている
知るはずのない目的地が
近づくと 敷かれた重力は薄まり
窓に溶けていた町工場が
煤けた輪郭を取り戻す 写真と
異なり かすかに錆の流れる
原形を保っている
勝手口の上で浮かぶ
磨りガラスの傍らに干された
布団と 人影が ふと吸い込まれる
漆黒の部屋はやわらかい
眠れる呼称のために
手元の水晶の向こう岸では
鋼鉄の滴が輝きながら夜空を掻いていく
後にも先にも切れ目なき沈黙が
歩み軋ませる耳の骨
扉が滑ると吹き込んでくる
私達の声の瞬き ほころびそうな
射程にて 傘がひろがり
無二の春を追っていた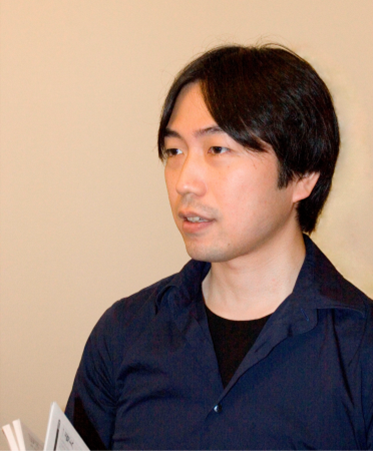 Zon Samine
Zon Samine is a Japanese poet with an international background. He published his first volume of poetry, "Taigan-heto (translation: Crossing Water)" (Publisher: Shichosha) in 2015. Born in Tokyo, he lived in the United States for 13 years. His life in America has served as a foundation for his poetry and his deepening understanding of American poetry via communication with diverse poets. His collaboration with the contemporary composer Yuka Shibuya, providing text for pieces, has led to his interest in poetry's interaction with music. Samine has written extensively for poetry magazines/journals including Gendaishi Techo, Eureka, and Rekitei.
詩人。2015年に詩集『対岸へと』(思潮社)を刊行。13年間の米国生活の中で詩作を始め、米国詩の現在への理解を、書き手との交流を通じ深め続けている。現代音楽作家・渋谷由香氏の作品へのテキスト提供を契機に、音楽・詩の越境に関心を持っている。『現代詩手帖』・『ユリイカ』・『歴程』など、多くの媒体にて執筆。