a body
by Kei Okamoto
tr. Tomoyuki Endo
With the posture
yielding everything to myself,
the brightness receding from the face,
the eyes sunken, the ankles, the upper arms, the wrists
torn apart, collapsing right in front of my eyes.
(this is one of my works "inertia," which happened,
and will stay with my body, forever)
bending the body forward,
and looking for the toes never coming out of the bottoms of the trousers,
slipping the arms to the forgotten sleeves,
hooking the buttons on the chest onto the time nobody knows,
wiping the breath,
a tumbler, though it was handed, slipped from the hand,
making the clear sound,
onto the cold ground,
regardless of the ears,
regardless of the long time of silence
till this planet is covered
with the air.
Putting my cheek on the soil,
with a blink
never again redeemed.
あけわたすしせいで
全身をさしだされ
そのかおからひかりはひき おちくぼみ
くぐらせた くるぶしは 二の腕 手首は
ばらばらに はずし
目の前でくずれおちて
(これは 無力という作品 ぼくのからだ
ここにあったものは えいえんにおこった)
からだを折りまげて どうやら
ズボンから あらわれないつまさきを
いつまでもさがして
忘れのほうに 袖をとおし
だれもしらない小さな時間に
一つ二つと 胸のボタンをとめて
息はふきとり
どうしてかタンブラーだけ
わからない まるで手わたされたように たしかに
とりおとし かたい音をたて
ひえかたまった地表へ 耳をおいて
ことばをおいて
このほしが 大気におおわれていくまでの
どれほどか ながい
沈黙をおいて
土に頬をつけて とりかえせない
まば、たきを。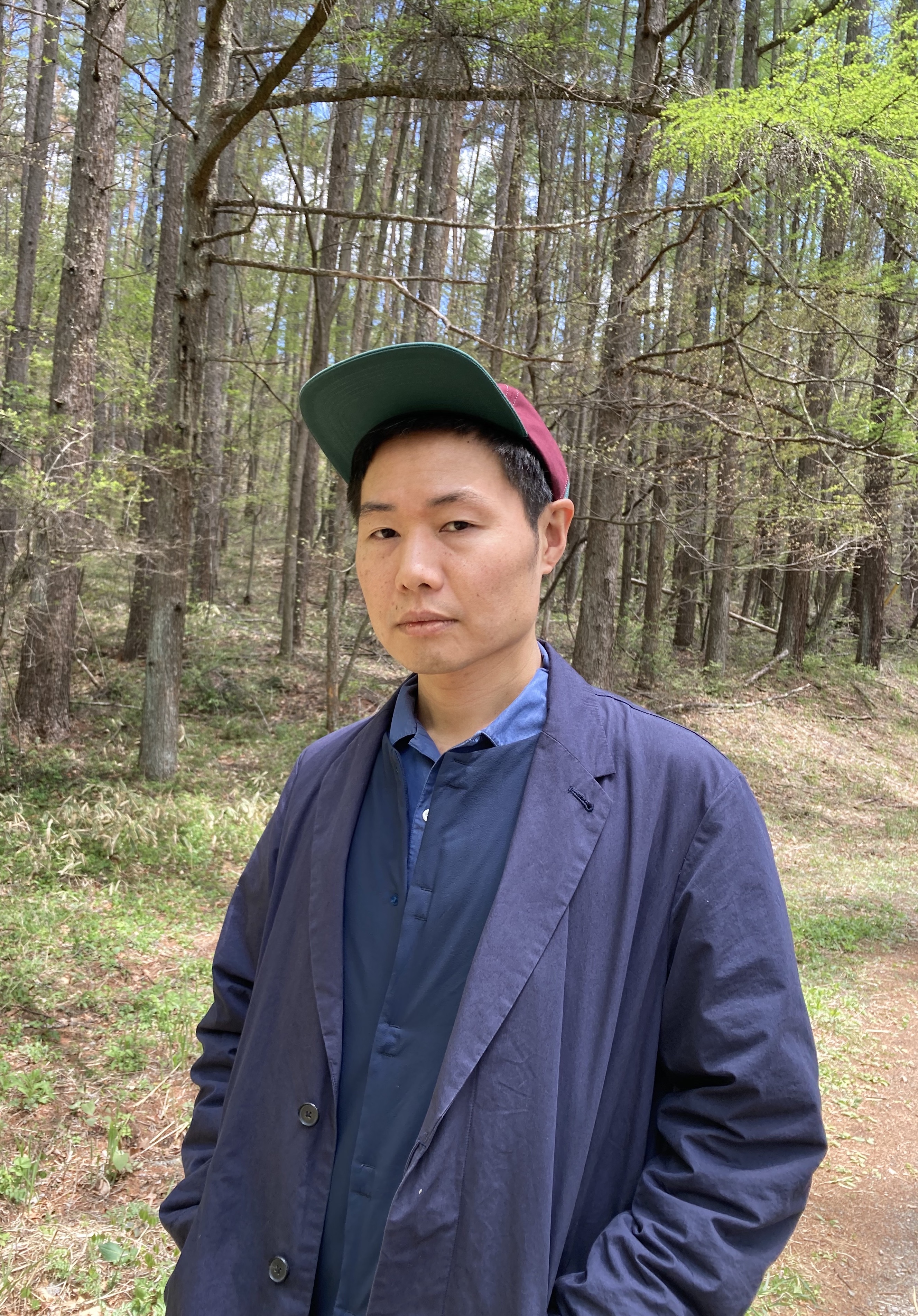 Kei Okamoto
Born in 1983, first encountered poetry during his late 20's, he began to write his own works. His first book of poems Graffiti compiled while he was staying in the US received Nakahara Chuya Prize and Mr. H Prize in 2015. His second book Zekkei Note (Mega-View Note) with its theme on his travels won Hagiwara Sakutaro Prize in 2017. His most recent book is named Zawameki-no-Naka-de-Waraikorogeyo (Keep Laughing Rolling on the Floor in the midst of Noise).
1983年生まれ。20代後半になって詩にふれ、詩を書きはじめる。アメリカ滞在時の詩をまとめた第1詩集『グラフィティ』で2015年の中原中也賞、H氏賞受賞。17年、旅についての第2詩集『絶景ノート』で萩原朔太郎賞受賞。最新詩集は『ざわめきのなかわらいころげよ』。