Light Source
by Zon Samine
tr. Zon Samine
The crossing behind the window is crushed and shining,
its fire leaping onto the darkness, and
the plasma turns blue.
On the surrounding cliffs,
nests are burning.
Inhaling and exhaling, livelihoods condense into stars,
shaking their flesh.
From the center of oscillation,
morning—not here, is seeping through,
repeating ruptures on the other side of the sphere.
The glimpse of a crowd getting ready
besides the throat, stretching
from the rolling spine is seen,
secreted at whereabouts undefined,
changing color,
ever spilling and silent.
A compass, touching
the acute floor with both knees,
you, precise, in the compartment
are pinching the shade, curling
the thickened fingers like filaments.
Their tremors
illuminate my lines.
A gag order has been put in place
as if our neighbors
wearing layers of space suits
break in, cutting through the partition
with a piece of paper.
One can breathe
without a helmet on, so we mutter.
Only the traffic lights, blinking through the hole
leading to the camps, were as usual.
We cannot, not make a noise,
our limbs born
from the mud intertwined
have their own masses, and
accelerate, to fall free.
Silence is the amount of time leading to
the break, touching the rock surface.
Once released,
a voiceprint
transfers from drums to ossicles, bending
the shape of semicircular canals with tail lamps.
By the port just about to cave in,
not cosmetic eyes nor cheeks but wet and smooth
tongues rise from the underground.
I craved to carve those ubiquitous walls
with hieroglyphs.
Look, a puddle!
Clouds are going up, in the abyss by the feet.
At this address uncertain,
gravity becomes transparent, to the core (nucleic).
As fluids sticky,
we turned itchy
red, as if reaching the source,
sinking.
窓の奥の十字路がつぶれ輝いている
漆黒に中身が飛び火して
血漿が青くなった
周辺の 至る断崖で
巣が燃えている
生活の呼気が 明星に結露して
果肉をふるわせる
振動の芯からは
ここではない 朝も漏れていて
球体の対岸で 決壊を繰り返す
人波が支度をする姿が
脊柱の起伏に伸びた喉元の
傍らに 垣間見えた
定まらない所在 にて分泌され
色を変えながら
ひっそりと こぼれ続ける
羅針盤 両膝で
尖った床に触れながら
小部屋の 緻密なあなたは
厚くなった指を フィラメントのよう
丸めて 暗がりをつまんでいた
揺らぎを 以て
私の輪郭を照らし出した
「箝口令が敷かれたらしいね
まるで宇宙服を
重ね着したご近所さんが
紙片で仕切りを突き破り
上がり込んできた
被り物を 取ったって
息は出来るよと 囁いてみる
収容先へと ひらけた穴に点滅する
信号機だけが平常だった
音を立てずにはいられない
入り組んだ 泥濘より
産まれた 四肢は
質量を持つから
そのまま加速して 自由落下する
沈黙とは 岩肌と接して
割れるまでの時間だ
ひとたび
発せられた声紋は
鼓膜から 耳小骨に伝導し
尾灯の走る半規管を 変形させる
陥没しつつある港では
施された眼や頬でなく つややかな
舌が 地底より 隆起する
八方の壁に 象形文字を
刻み付けたかった
「あ 水溜り
底抜けの足元を 雲がのぼっていく
不確かな 番地では
重力が 核心へと 透きとおる
粘り気のある流体として
私達 むず痒く
赤くなり 源に届くように
沈んでいった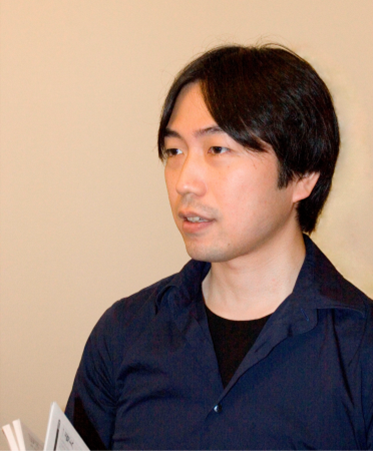 Zon Samine
Zon Samine is a Japanese poet with an international background. He published his first volume of poetry, "Taigan-heto (translation: Crossing Water)" (Publisher: Shichosha) in 2015. Born in Tokyo, he lived in the United States for 13 years. His life in America has served as a foundation for his poetry and his deepening understanding of American poetry via communication with diverse poets. His collaboration with the contemporary composer Yuka Shibuya, providing text for pieces, has led to his interest in poetry's interaction with music. Samine has written extensively for poetry magazines/journals including Gendaishi Techo, Eureka, and Rekitei.
詩人。2015年に詩集『対岸へと』(思潮社)を刊行。13年間の米国生活の中で詩作を始め、米国詩の現在への理解を、書き手との交流を通じ深め続けている。現代音楽作家・渋谷由香氏の作品へのテキスト提供を契機に、音楽・詩の越境に関心を持っている。『現代詩手帖』・『ユリイカ』・『歴程』など、多くの媒体にて執筆。