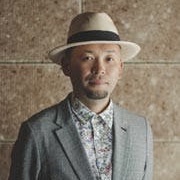 Mizuho Ishida
Born 1973. A Japanese poet and critic.

Published first collection of poems Segments-Kakerahen in 2006, then Sleepy Islands(2012), Faraway Atlas(2014), Ear, Bamboo Leaf Boat(2015) and Asian Dream(2019).Awarded with Gendaishi Techo Prize(1999), Mr. H Award(2013), Toson Shimazaki Memorial-Rekitei Award(2016).

In 2014, he attended the international poetry/novel reading project, the Invisible Wave. With a Japanese novelist Hideo Furukawa, and a poet Keijiro Suga, he toured five cities of France and England. The project was for Eastern Japan, still suffering from damages of East Japan great earthquake disaster and radioactive contaminations.
1999年、第37回現代詩手帖賞受賞。個人詩集に、『片鱗篇』(2006年、思潮社・新しい詩人シリーズ)、『まどろみの島』(2012年、思潮社、第63回H氏賞受賞)、『耳の笹舟』(2015年、思潮社、第54回藤村記念歴程賞受賞)、『Asian Dream』(2019年、思潮社)がある。2014年、欧州5都市で東日本大震災を語る朗読ツアー「見えない波」に参加。以後、海外での作品発表や朗読もしている。2020年11月には東京・蔵前のギャラリー「空蓮房」で1ヶ月半にわたり、写真家谷口昌良との共同展「Cath the Emptiness」を新型コロナ禍の中で開催した。アートと詩のコラボレーションとして2020年に『空を掴め』(写真:谷口昌良、Yutaka Kikutake Gallery Book)、2021年に『sibira』(ドローイング:野原かおり、Stoopa. Ltd)を上梓。獨協大学外国語学部主催「LUNCH POEMS@DOKKYO」ディレクター。フェリス女学院大学、京都大学でも講義を担当。